When parents of SMK USJ 12 first contacted me about the distribution of Maths and Science books in BM by the school (though the parents have opted for English for these two subjects), I immediately called the school to verify. The school confirmed two things:
(a) that they didn't have enough English books; and
(b) that the teaching of Maths and Science would be conducted in dual language "dwibahasa".
I informed the school about our proposed gathering with concerned parents. Just before the gathering took place, miraculously there were sufficient English books being distributed to the students.
I personally think we need a new Education Minister who spends less time politicking and one who has the children's interest as a priority.
You can read more about the gathering in the article below.
Concerned Parents of Selangor will be having a rally on 10 March 2012 to express support for PPSMI. For more details, click here.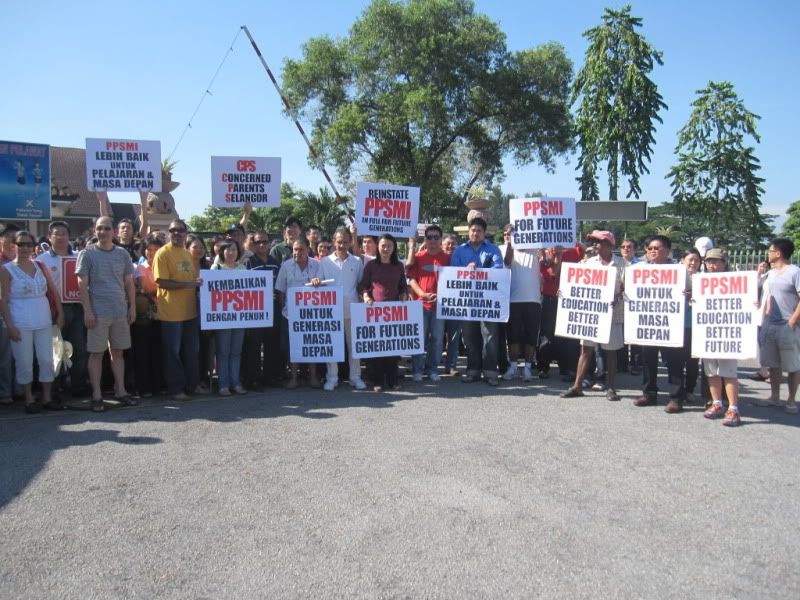 Photo courtesy of pcyeoh (taken from his posting here)
SUBANG JAYA: Parents who claim a school here is ignoring their children's choice to continue learning Mathematics and Science in English held a protest last Saturday (Jan 7).
Some 100 outraged parents gathered outside SMK USJ 12 in Persiaran Setia at 10am for 45 minutes to express their unhappiness with the school.
Yeoh speaking while Shamsudin (in white) and Loh (front row, right) look on.
Moves by the secondary school to distribute text books for the subjects in both English and Bahasa Malaysia (BM) to all students at the start of the school term sparked concern among the parents.
"Teaching in two languages will confuse my children. They're already feeling demotivated with studying," said 47-year-old homemaker Sue Pillai.
Pillai said her daughter (Form Four) and son (Form One) were among those who received text books in both languages from the school.
The Education Ministry announced last year that students who started learning the subjects in English will be allowed to do so until Form Five, but schools were also given the option to teach the subjects in both languages.
This has caused some parents to worry that the teachers could just ignore English. As such, some parents are asking for the reinstatement of the Teaching and Learning of Science and Mathematics in English (PPSMI) policy.
Pillia, who was with her husband M Ramachandran, said some parents are already considering transferring their children to international schools for their English syllabus.
"At least let them finish a whole cycle. If they started studying in English from Standard One, let them finish until Form Five," said homemaker Malarkodi Krishnasamy, 50.
Echoing her sentiments was engineer Albert Lim, who has a Form Four son in SMK USJ 12 who also started studying Science and Math from Standard One in English.
He said it made no sense for his son to revert to studying the subjects in BM for Form Four and Five only to change back to English when he goes to college.
(From left) Malarkodi, her husband Annanda Perisamy, Lim, Ng.
Lim added that his children will be further confused when the scientific terms his children learnt in English are translated into Malay.
"The parents don't object to BM but the Education Ministry should not change the syllabus at will," said 46-year-old manager Peter Ng, who has two sons in the school.
Also at the protest was Concerned Parents of Selangor (CPS) organising coordinator Shamsudin Hamid, who said the parents should have a say in their children's education.
CPS recently collected 12,000 written letters within two weeks from parents across Selangor calling for the reinstatement of the PPSMI policy.
"We have sent the letters to the Prime Minister. This issue has become so serious that it should be taken out of the Education Ministry's portfolio," said Shamsudin.
Also present were Kelana Jaya MP Loh Gwo-Burne and Subang Jaya assemblyperson Hannah Yeoh, who criticised the school for reinstating the policy without sufficient planning and consultation with the parents.