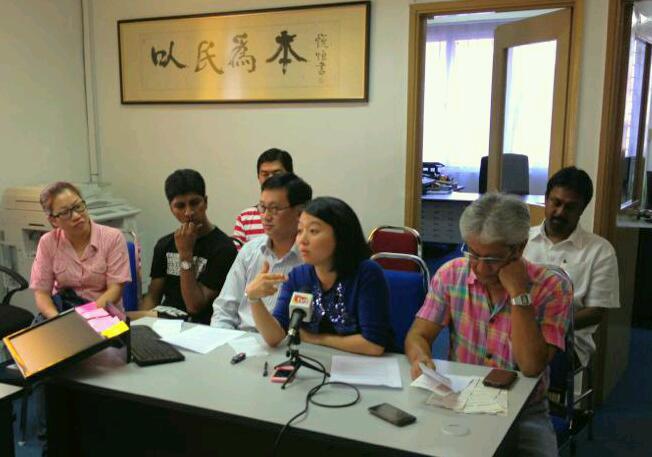 With Wong Chen (

PKR

Investment and Trade Bureau chief

Wong Chen)

, res
idents and business owners at the press conference
Published: Fri, 28 Dec 2012
SUBANG JAYA:
Residents are crying foul over the unreasonably high prices charged by Tenaga Nasional Berhad (TNB) after having their electricity meters replaced mid this year.
"My electricity bill doubled almost immediately after my meter was changed in July. I used to pay about RM200 but now its about RM400," said PJS 9 resident Mohd Noor Ahmad.
Mohd Noor, who is also the PJS 9 Rukun Tetangga vice-president said he did not increase his electricity usage and believes the meter is rigged to charge higher.
The 66-year-old retiree lives with his two working sons and wife who is also out during the day for work.
"We only switch on the air conditioner, television or computer in the evenings like how we normally do before July," he said.
He explained that TNB workers had come to his house and advised him to change his old meter as it was not effective anymore.
Mohd Noor was given a choice to change it then for free or pay a fee to change it later.
"I feel like a fool for changing the meter when my neighbours opted not to. I thought it was a directive from the government that we had to change and so I did it," he said.
Meanwhile, his other neighbours who changed the meters are also facing similar problems.
One of them received an electricity bill increase of RM600, from RM300 before July to RM900 after the meter change.
They lodged complaints at TNB and asked for an explanation since then but to no avail.
Mohd Noor even resorted living in semi-darkness and using candles in a bid to bring down his electricity bill.
"Increasing by RM20 is acceptable but not jumping from RM200 to RM400. It's just crazy and I can't afford to keep paying," he said.
This was then highlighted to the Subang Jaya assemblyperson Hannah Yeoh who urged TNB to disclose the revenue received after the meter replacement exercise.
"I urge the Ministry of Domestic Trade and Consumer Affairs to compel TNB to publish and share the data with the public," she said in a statement.
In 2011, TNB has 8.03 million customers paying a total of RM34.4 billion for electricity.
She pointed out that if all 8 million meters are changed and this exercise increases all electricity bills by a mere 2%, TNB will stand to collect RM688 million more per year.
Yeoh further hopes TNB will treat the consumers fairly and test out the new meters to ensure it is accurate.
"Due to a conflict of interest, the testing should not be done by TNB but by an independent body," she said.
She added that TNB should fully fund the independent testing body as part of their corporate social responsibility (CSR) to its customers.